Embroidery: When Screen Printing Just Doesn't Cut It.
See how embroidery can make your logo pop.
Get quote
Learn More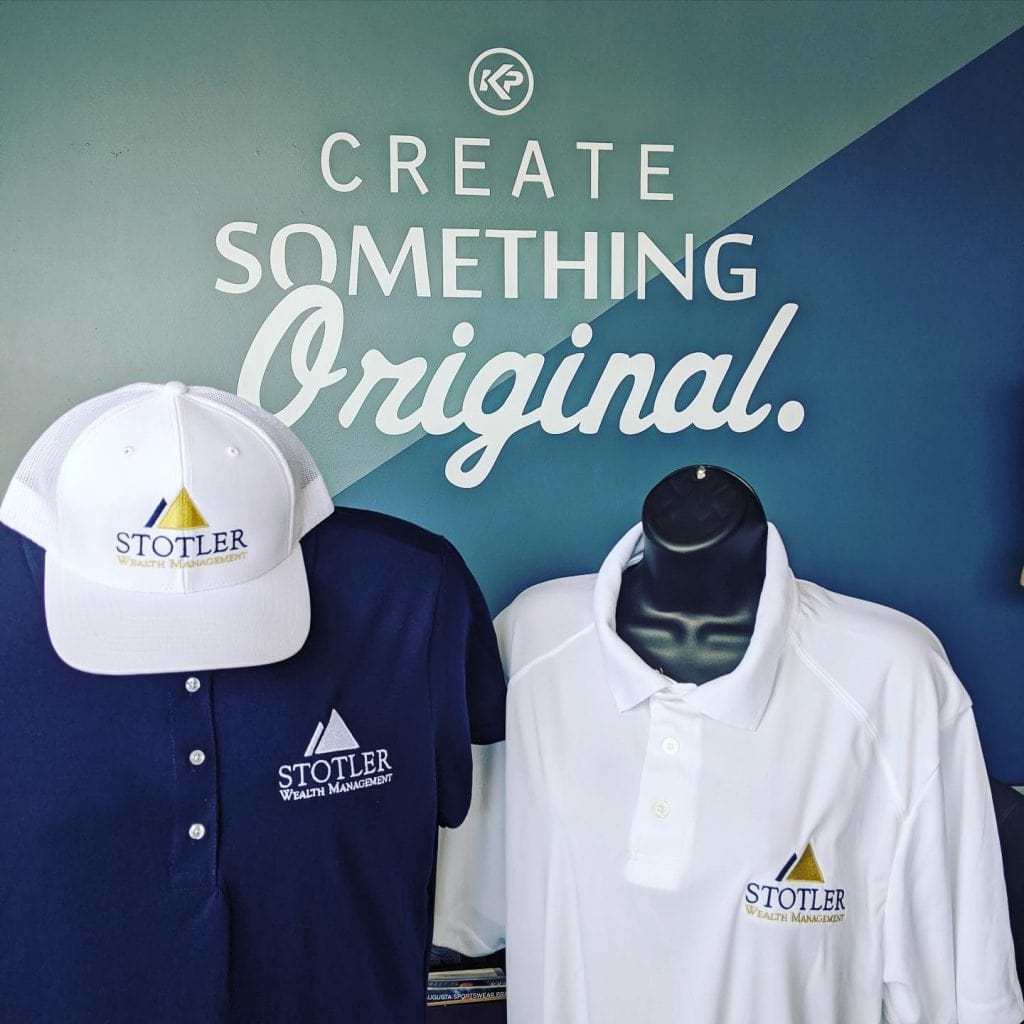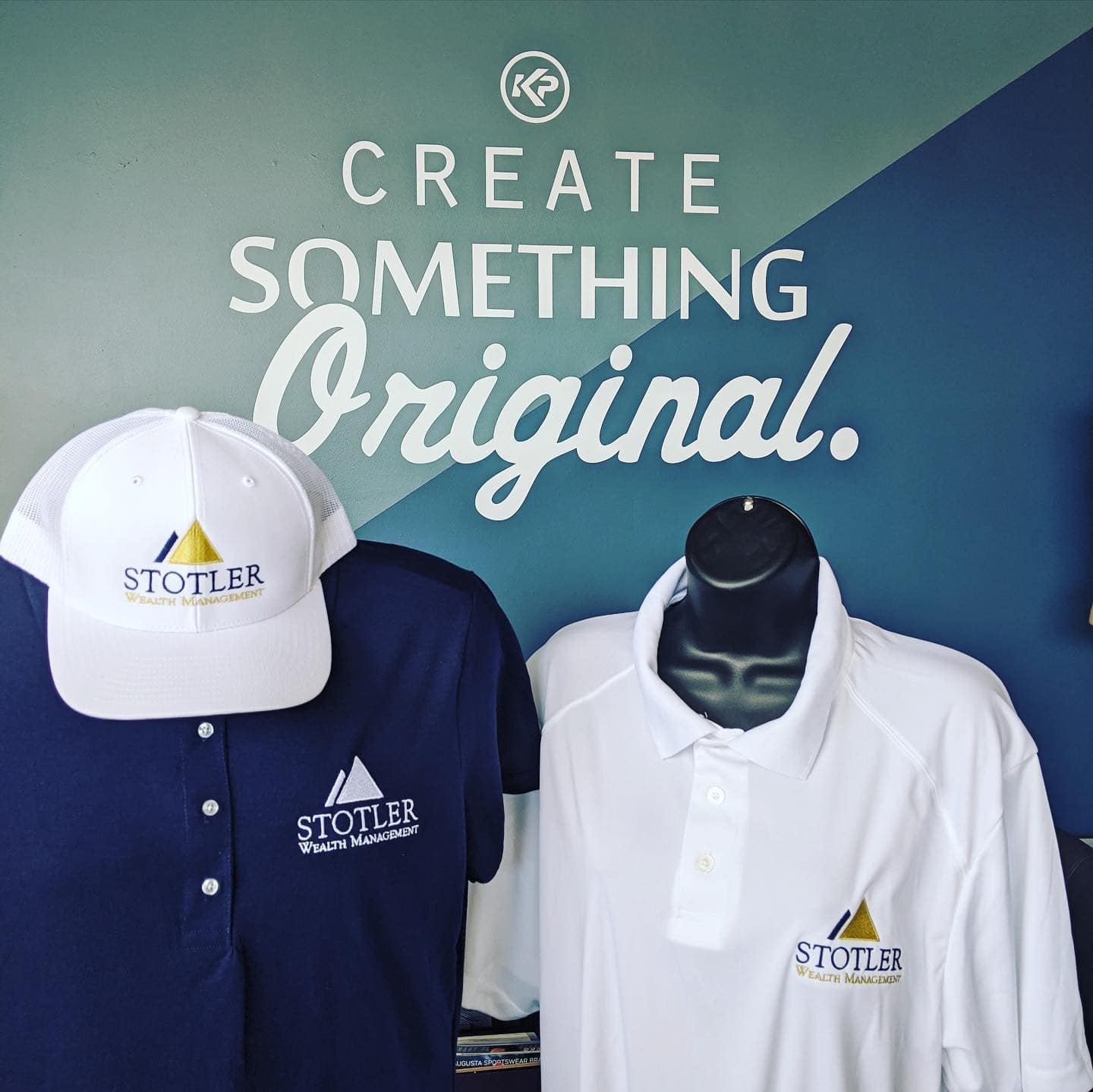 Custom Embroidery
Kick Print is proud to offer stand-out embroidery options for those who want to take professional and promotional wear to the next level. Kick Print's hand-made embroidery for polo shirts, hats, and jackets is unparalleled both in price and appearance. Learn more about the embroidering process or frequently asked questions here.
learn about embroidery
FAQ
Choose your thread color!
Kick Print offers thread colors to compliment any logo and apperal item.
Scroll through or download the complete color list of what we offer below!
Note that color may vary silightly due to differences in monitor brightness.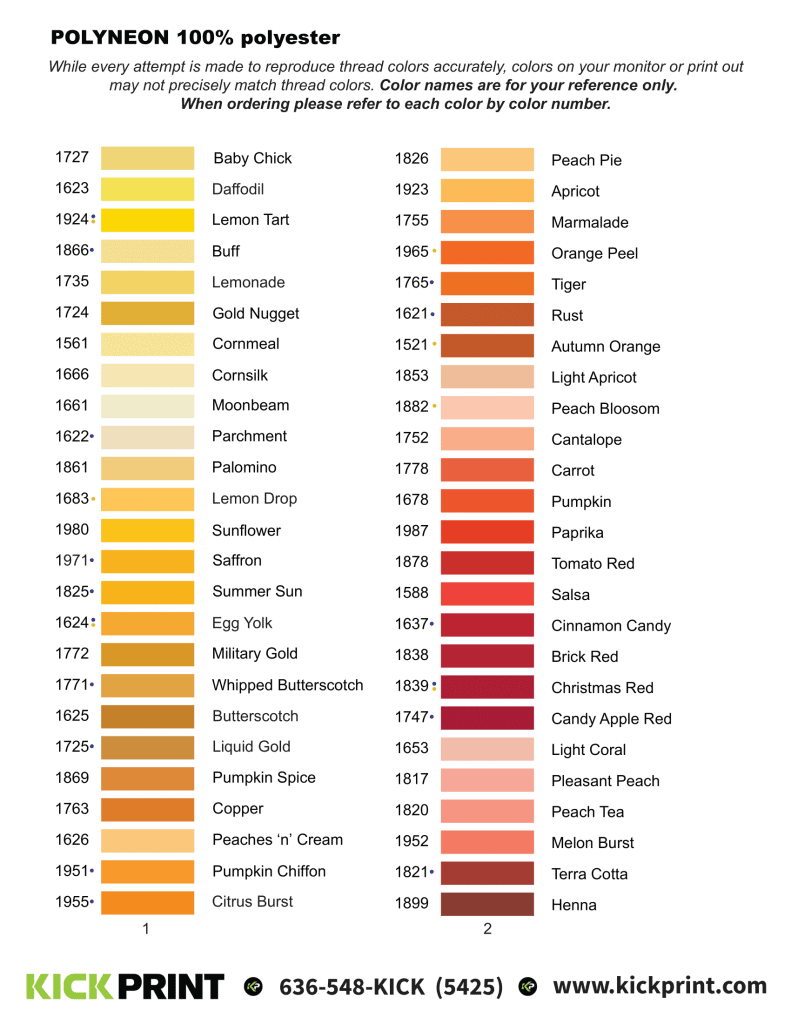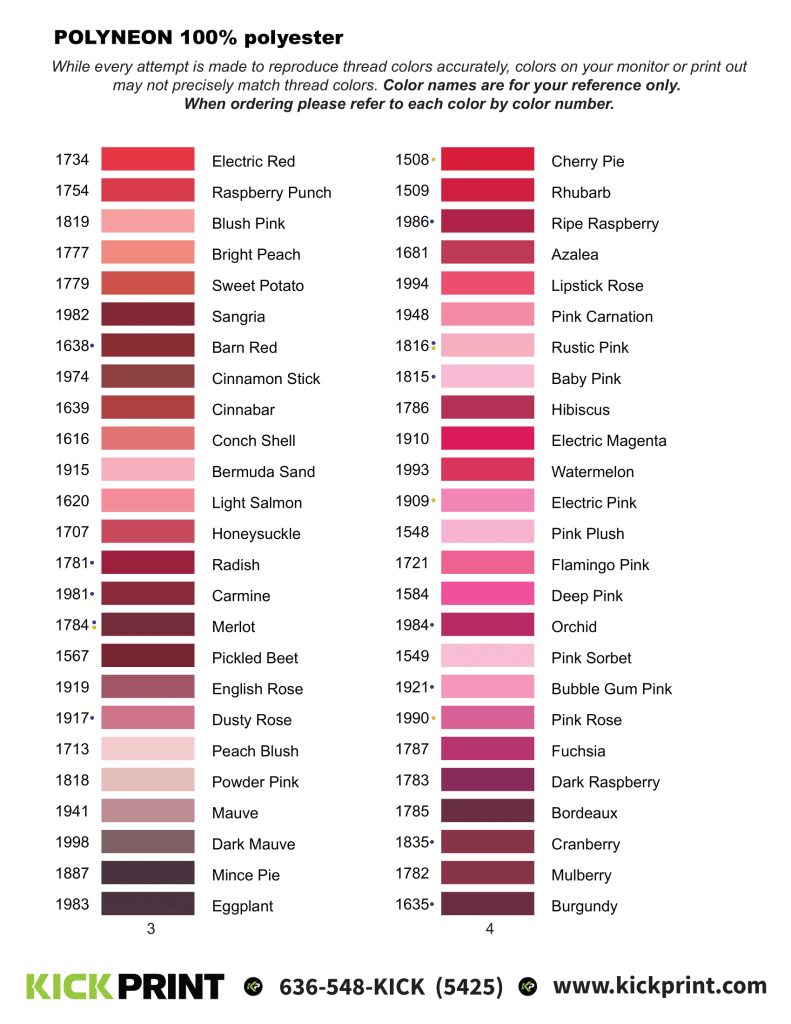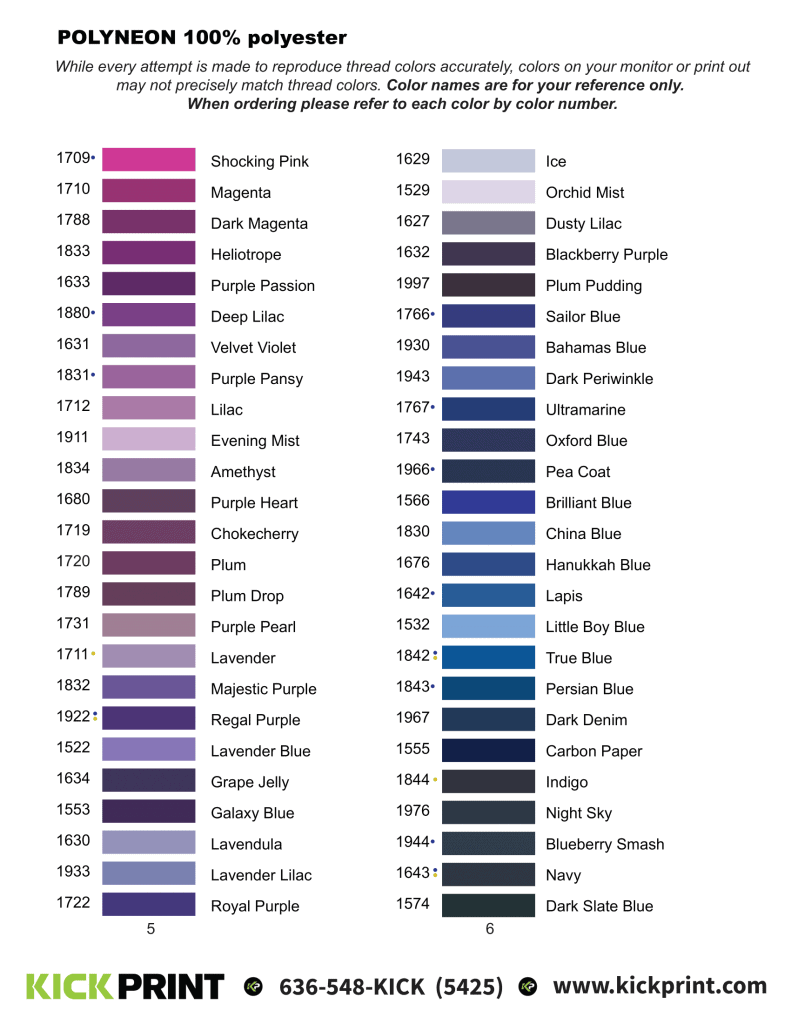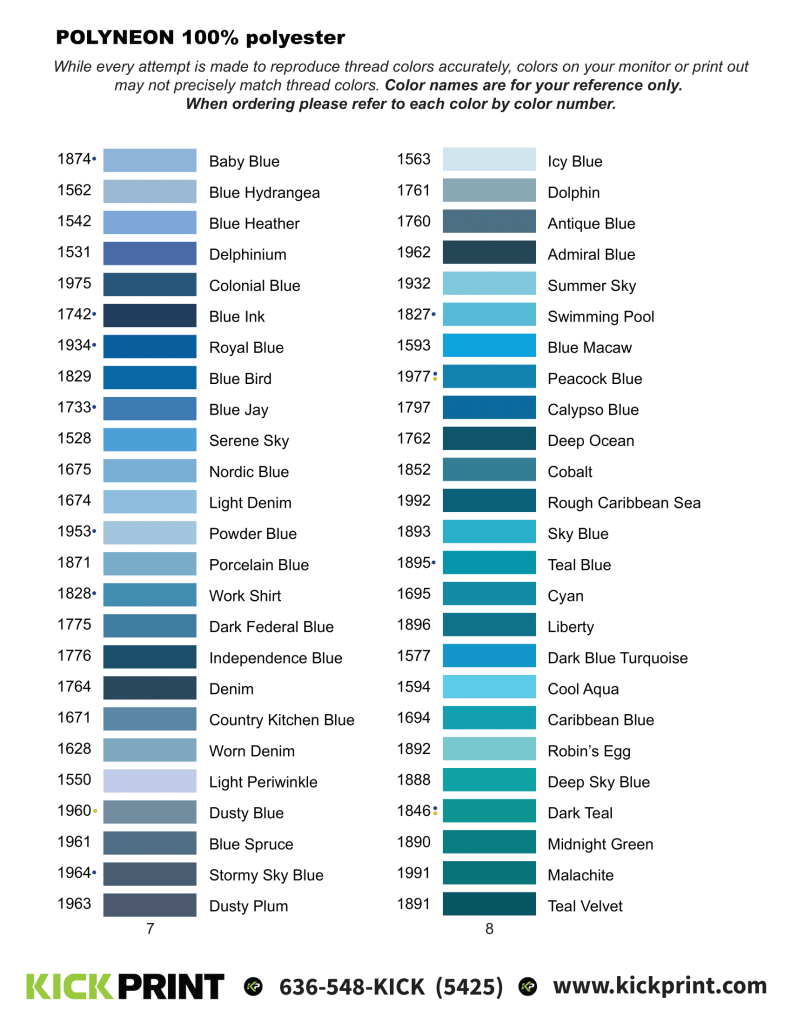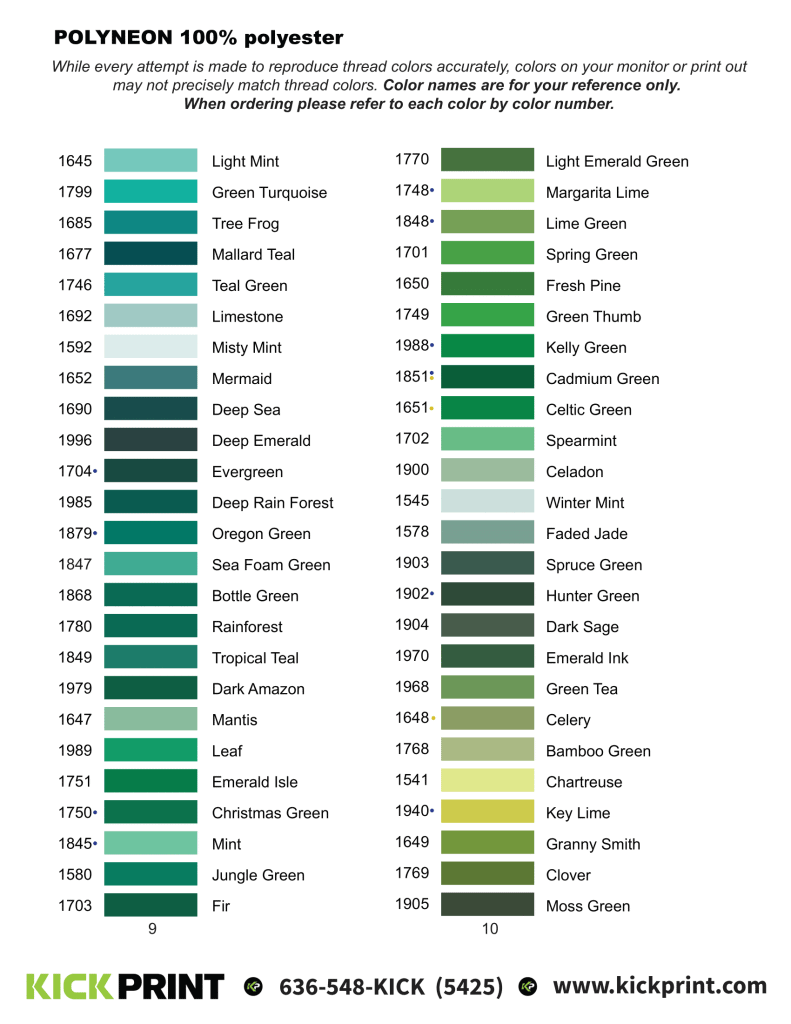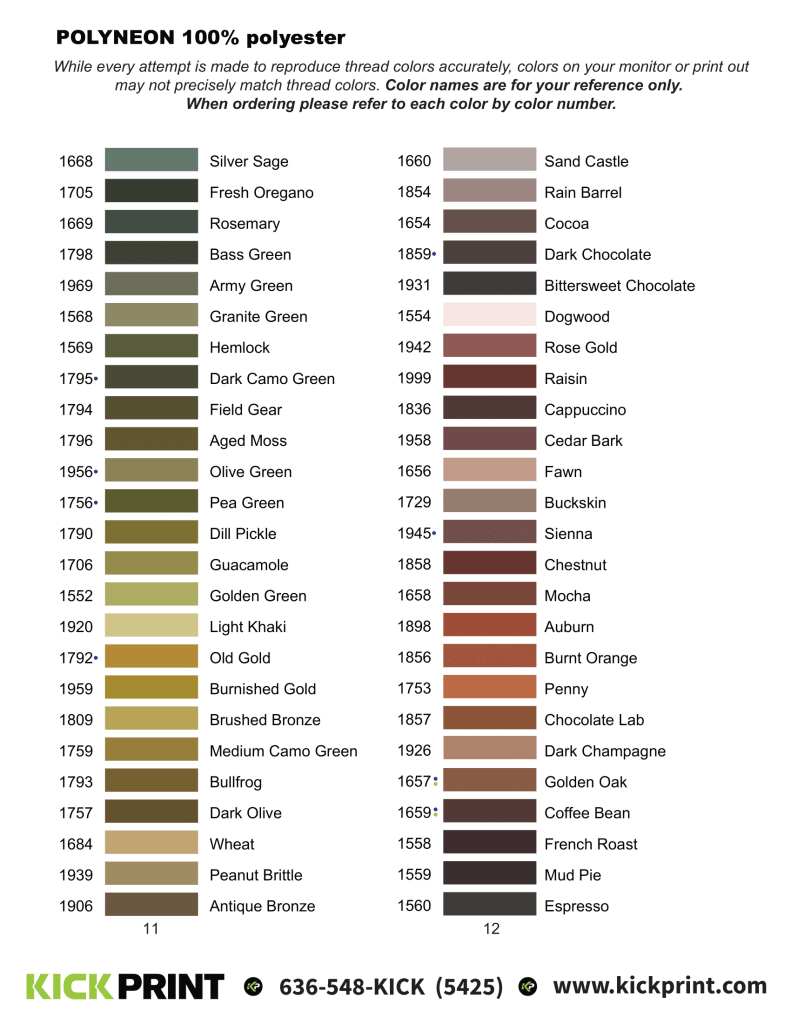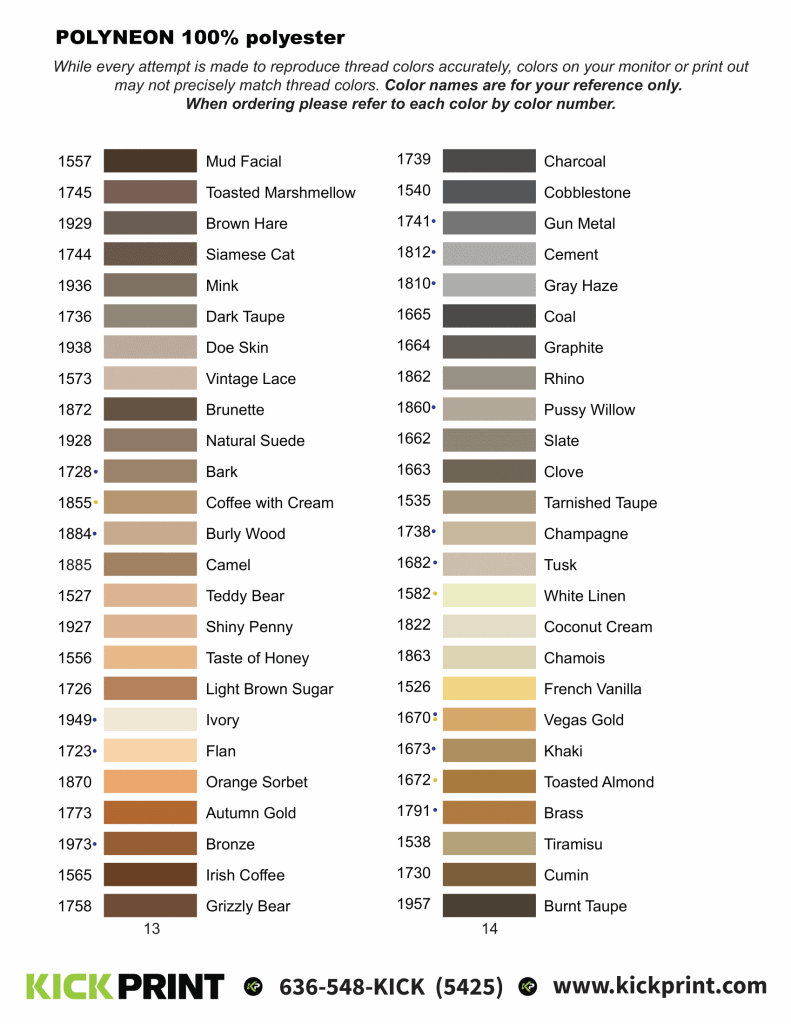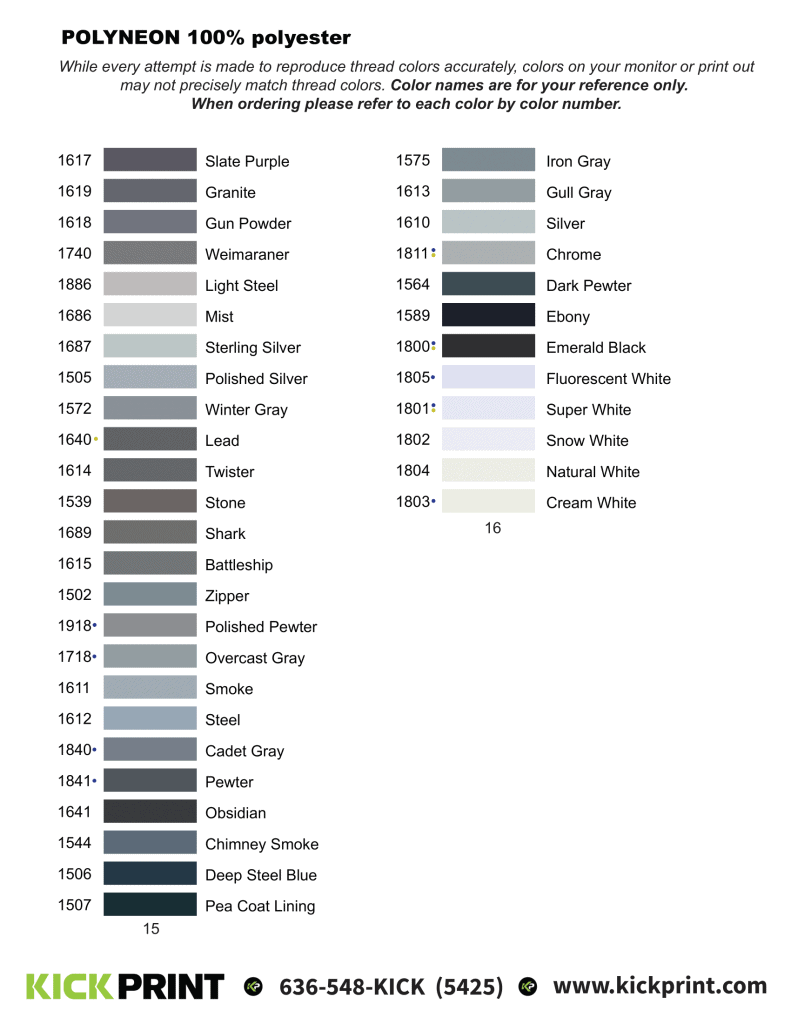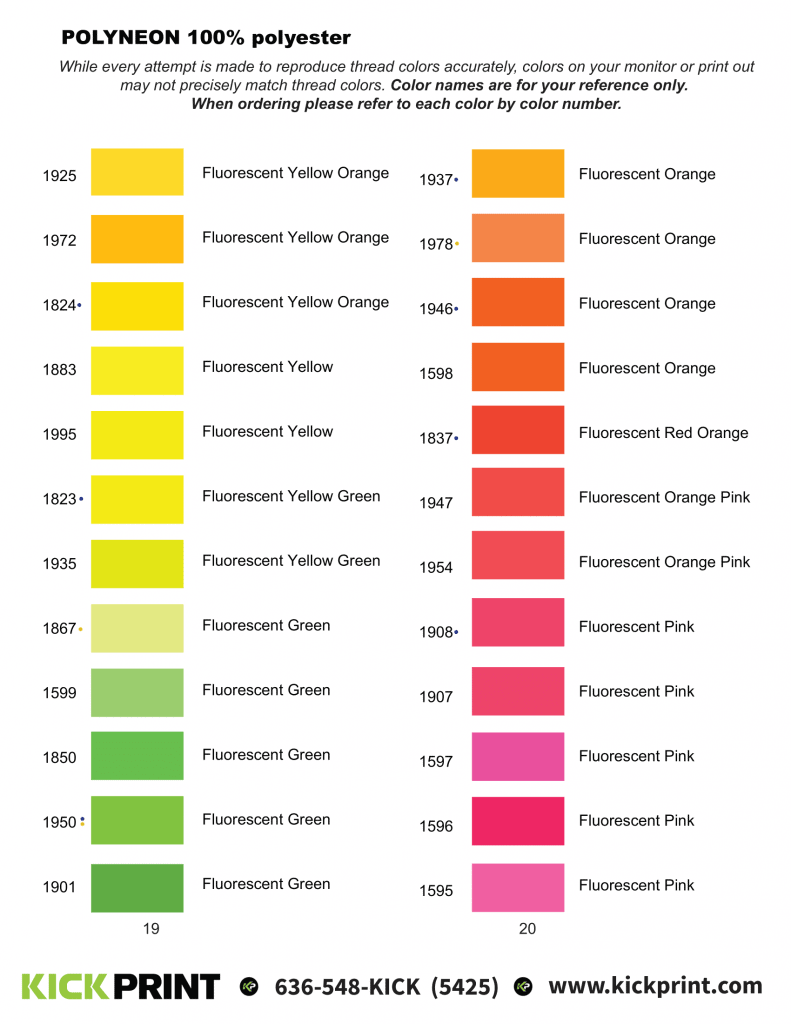 Thread Matching and Design
Not all artwork is created equal when it comes to embroidery. Sometimes artwork has negative spaces within other shapes, as shown with this logo below indicated by the red arrows. Since the apparel color cannot show through the embroidered logo, the negative space is replaced by a thread that matches the color of the apparel.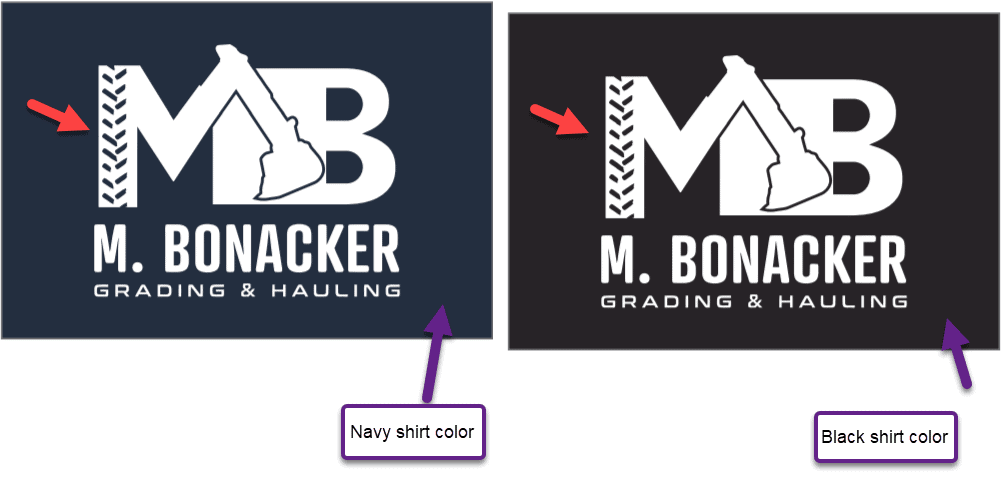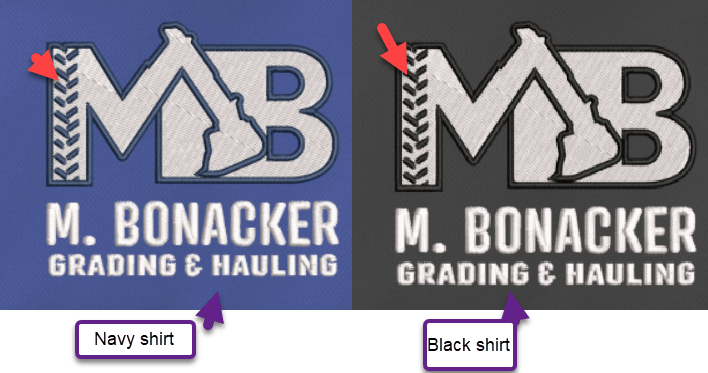 Single Color Thread Design
If adding a second thread color is not your thing, the other option is to fill in the edges and negative space using the same thread used on the rest of the logo. See an example below.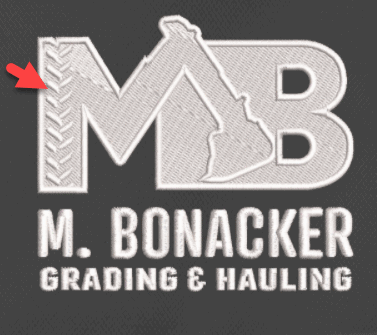 Stand Out with Puff Embroidery
If you'd like your brand to pop off the apparel (literally), Kick Print now offers
Puff style embroidery. This technique works best for simple logo marks and
is only offered on headwear, jackets and polos. See the example below!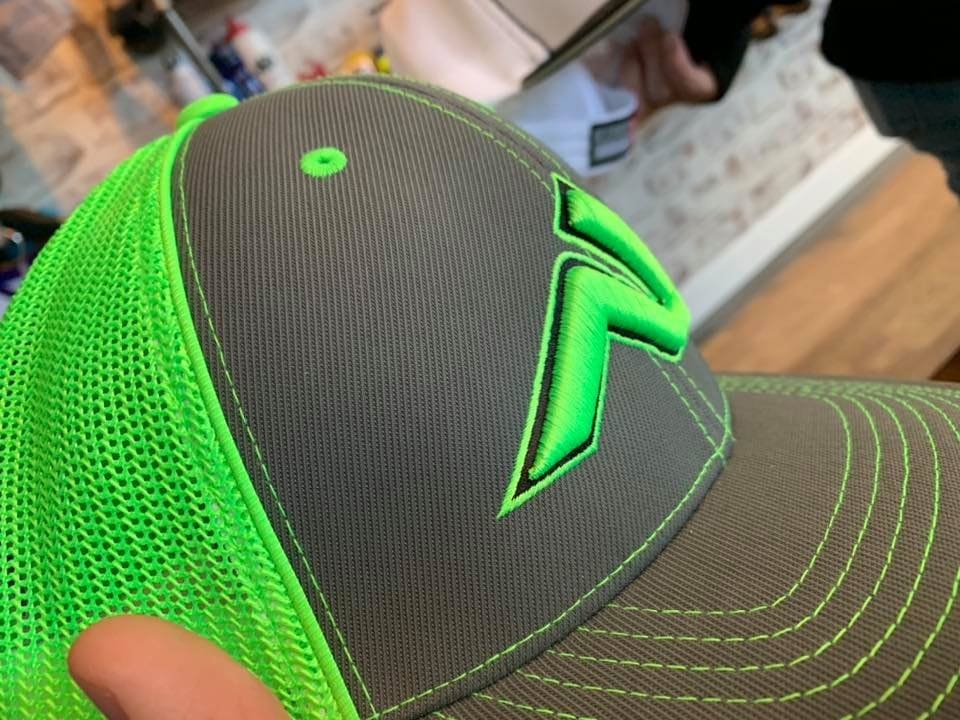 Pick out your apperal!
Whether its hats, polos, jackets or button-up shirts, our
team can help you find the perfect apparel for your needs.
Get a Quote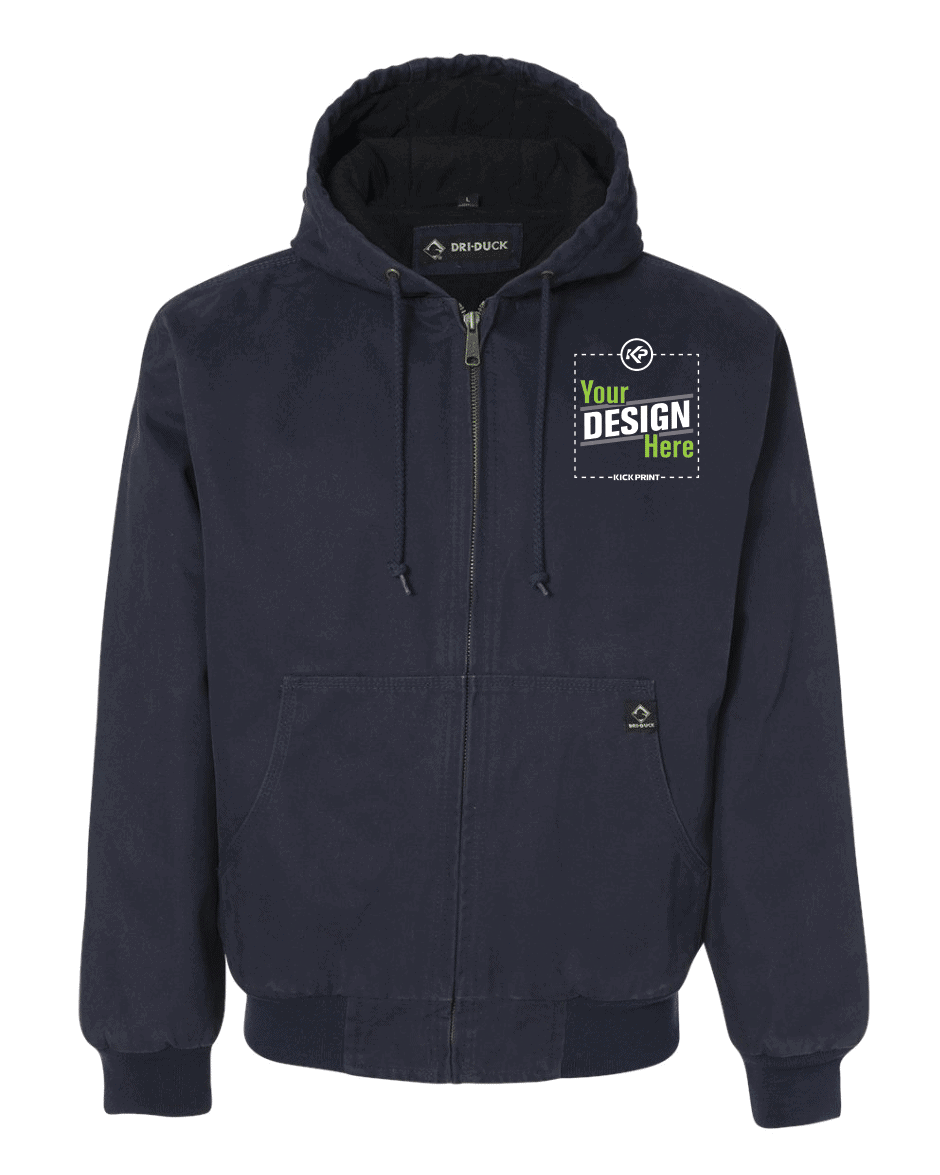 Hooded Jacket
The logo is placed on the upper left chest, mindful of the drawstrings and zipper.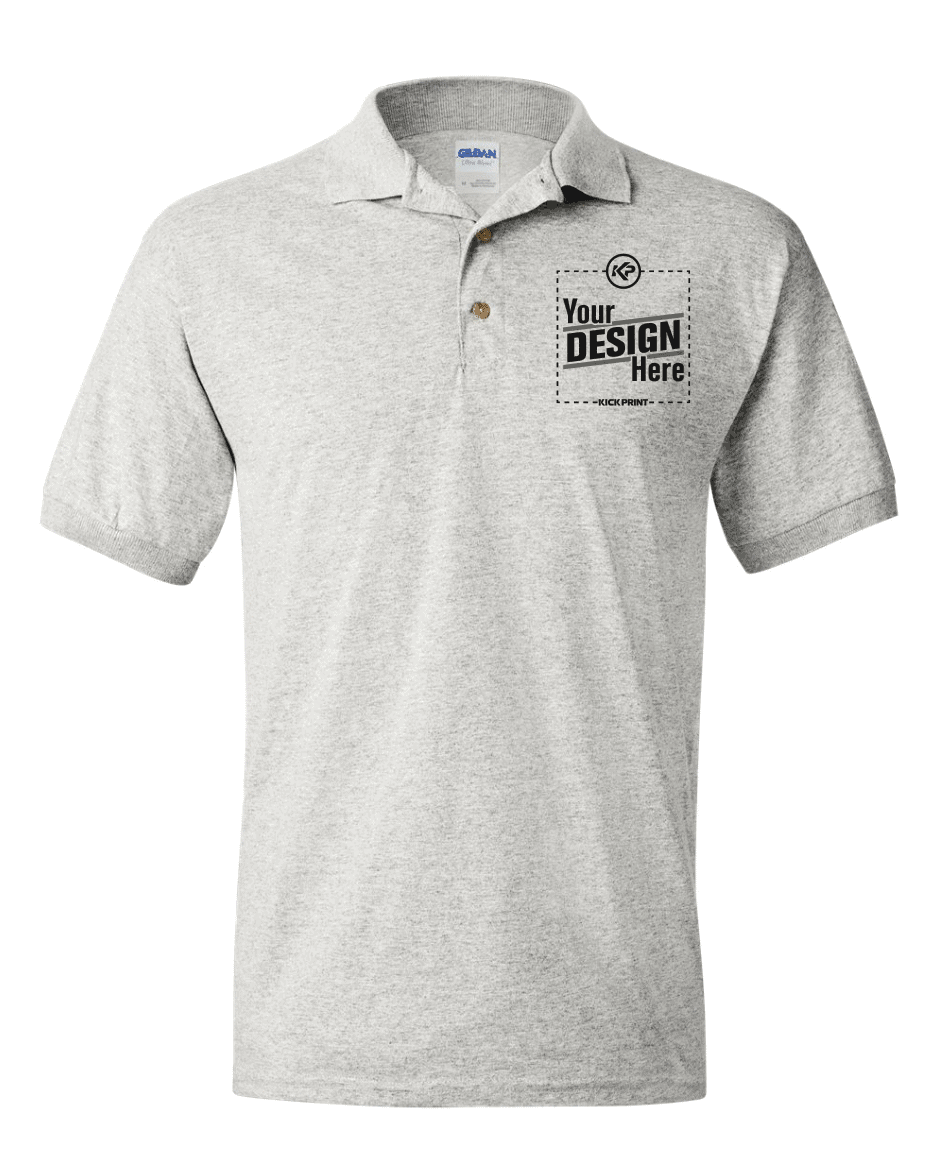 Polo Shirt
Great for businesses! Logo is placed on the
upper left chest of the shirt.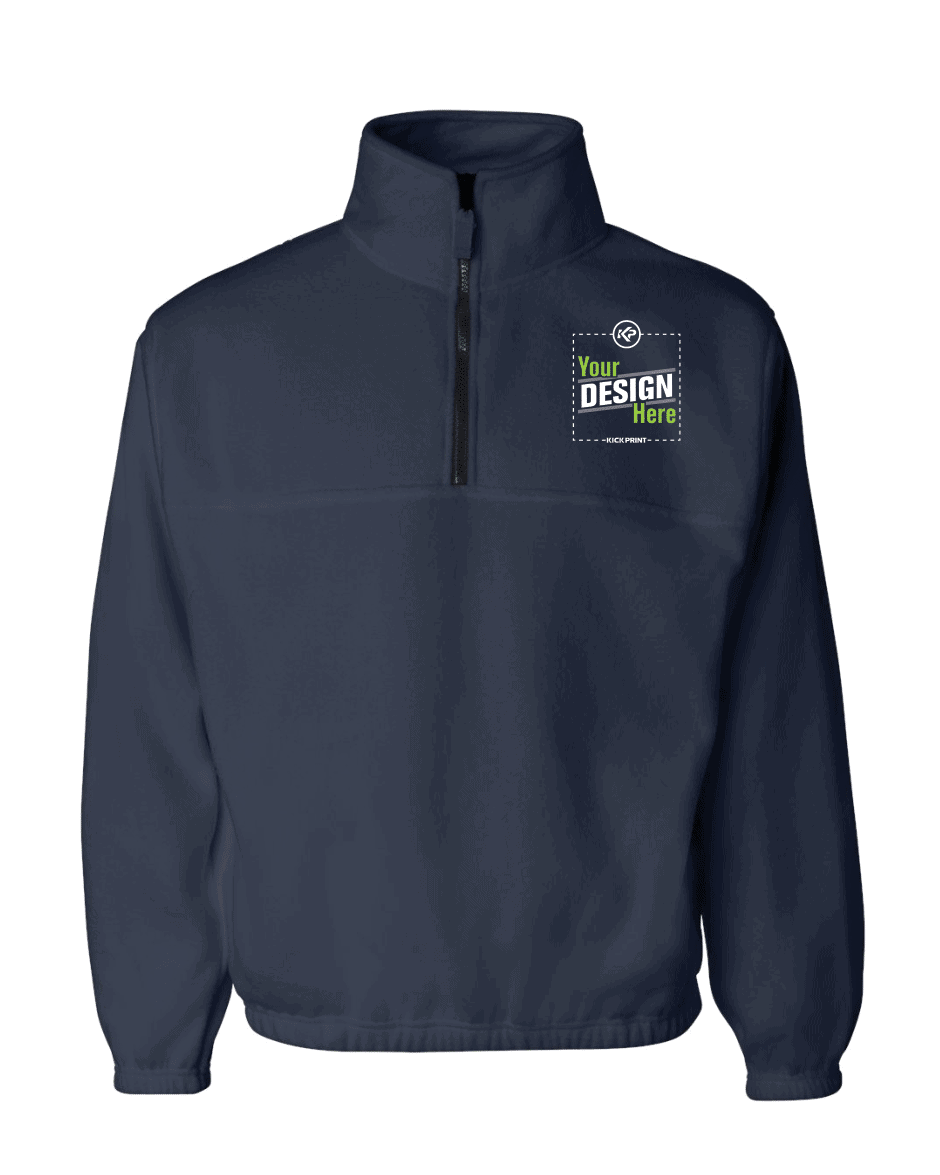 Quarter Zip
Keep warm with this quarter zip jacket! Logo is placed on the upper left chest.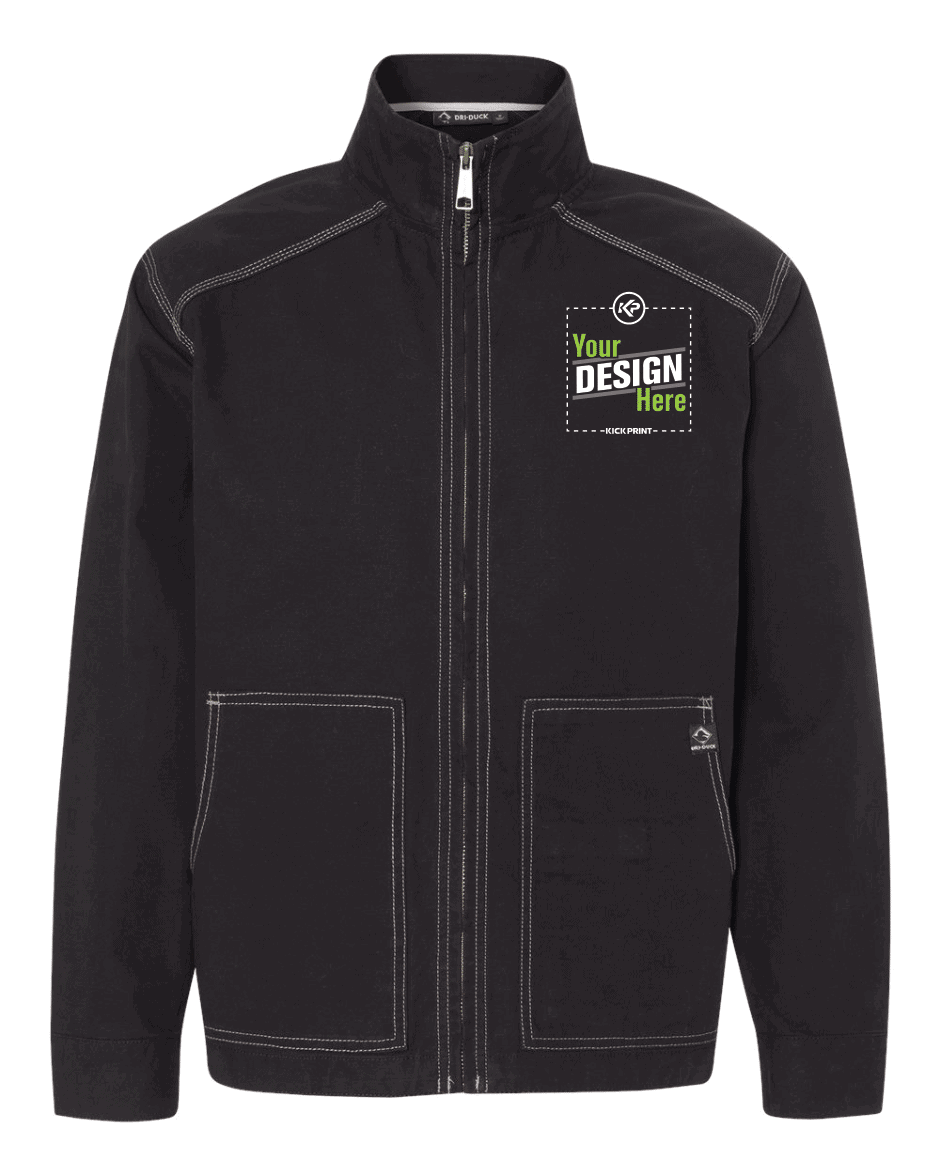 Jacket
Logo embroidery on jackets is the same as on polo shirts; placed on the upper left chest.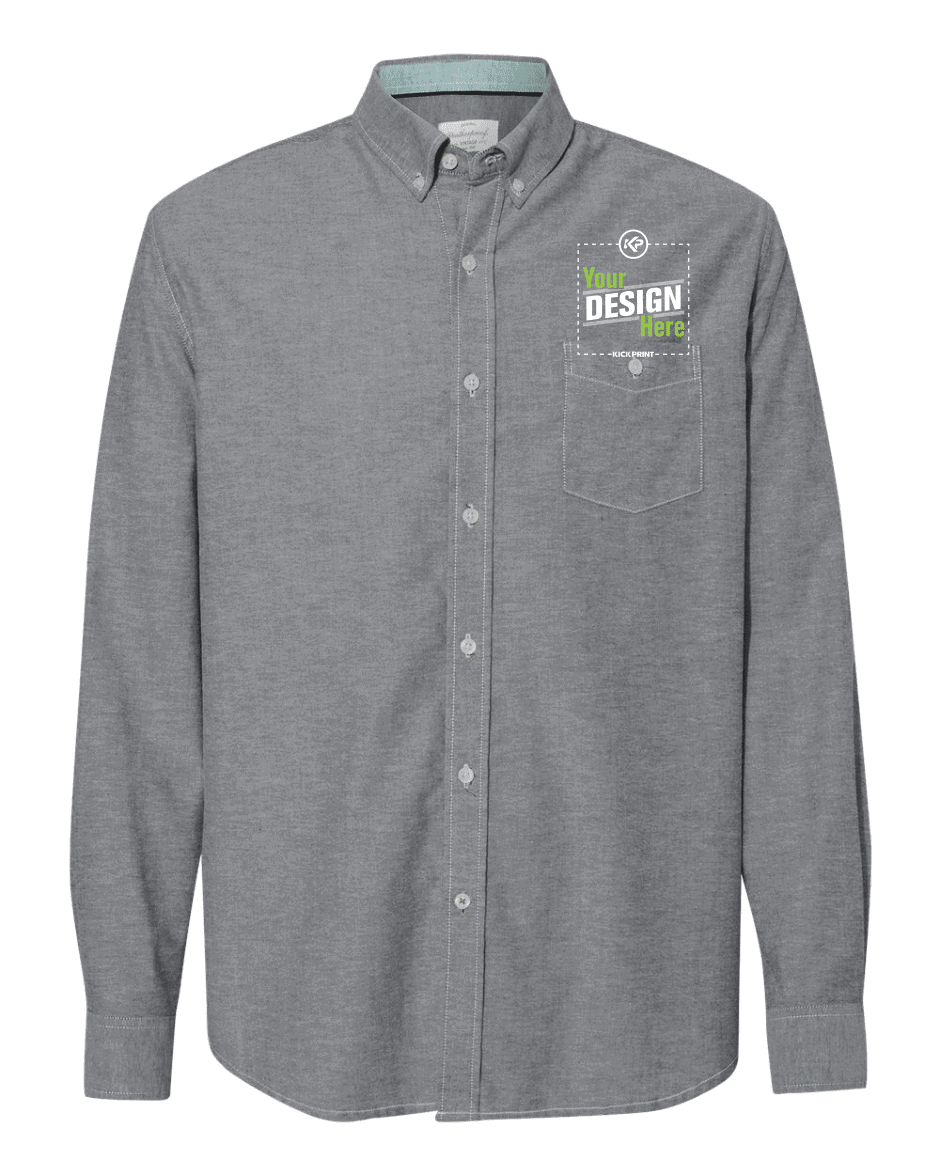 Button Up with Pocket
On shirts with pockets, the logo is embroidered above the pocket on the upper left chest.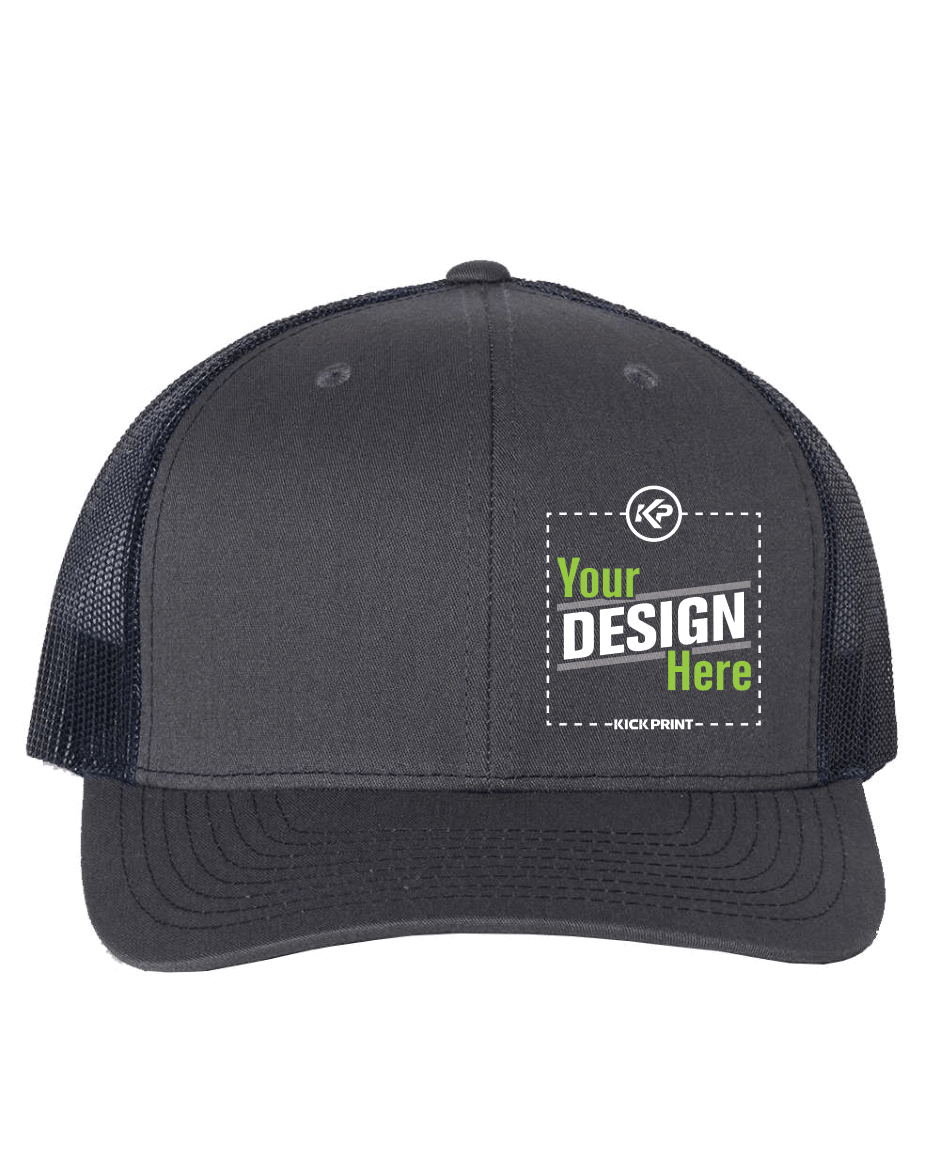 Cap
Logos on hats can be placed on the left or right panel, or across both in the center.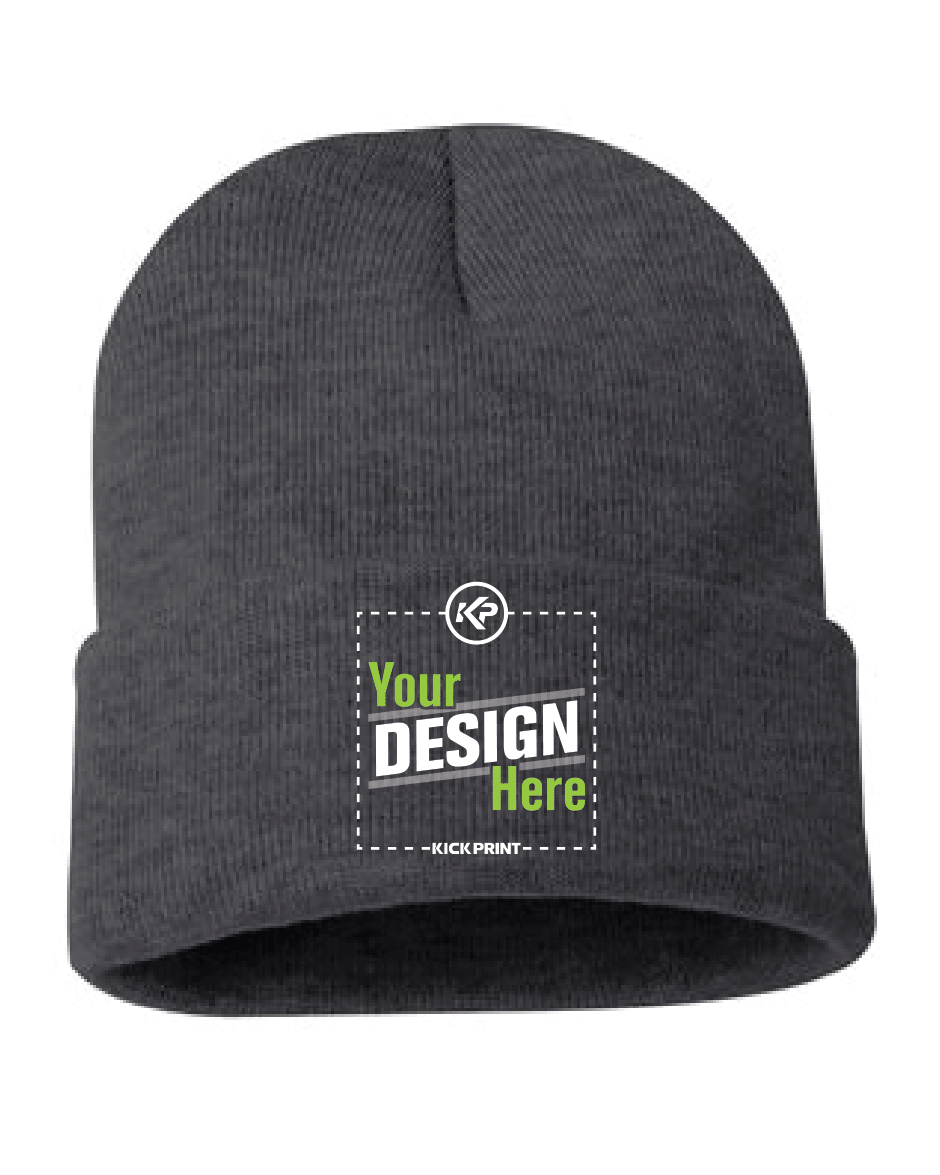 Beanie
We do stocking caps! Placed on the inside so that it's centered when folded to the outside.
Choose your artwork placement!
Whether its hats, polos, jackets or button-up shirts,
our team can help you find the perfect place to put your logo.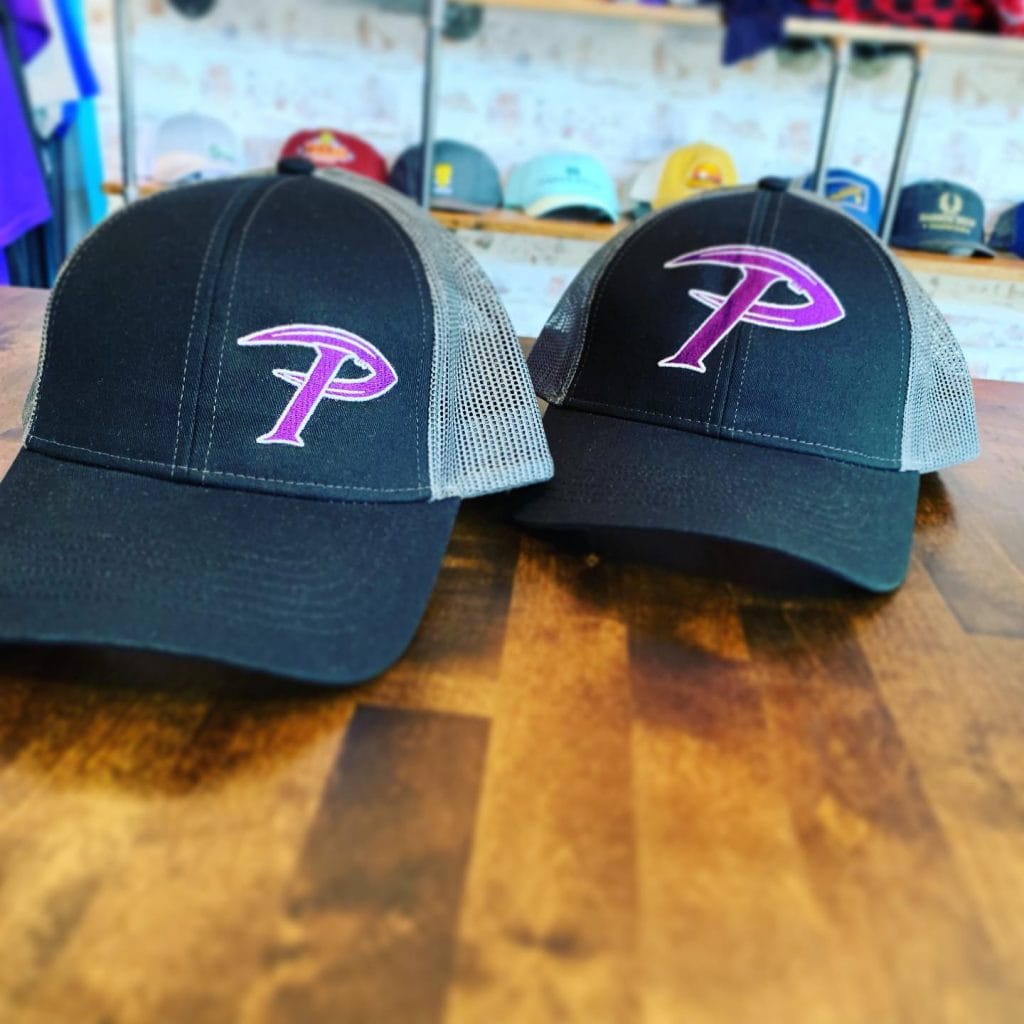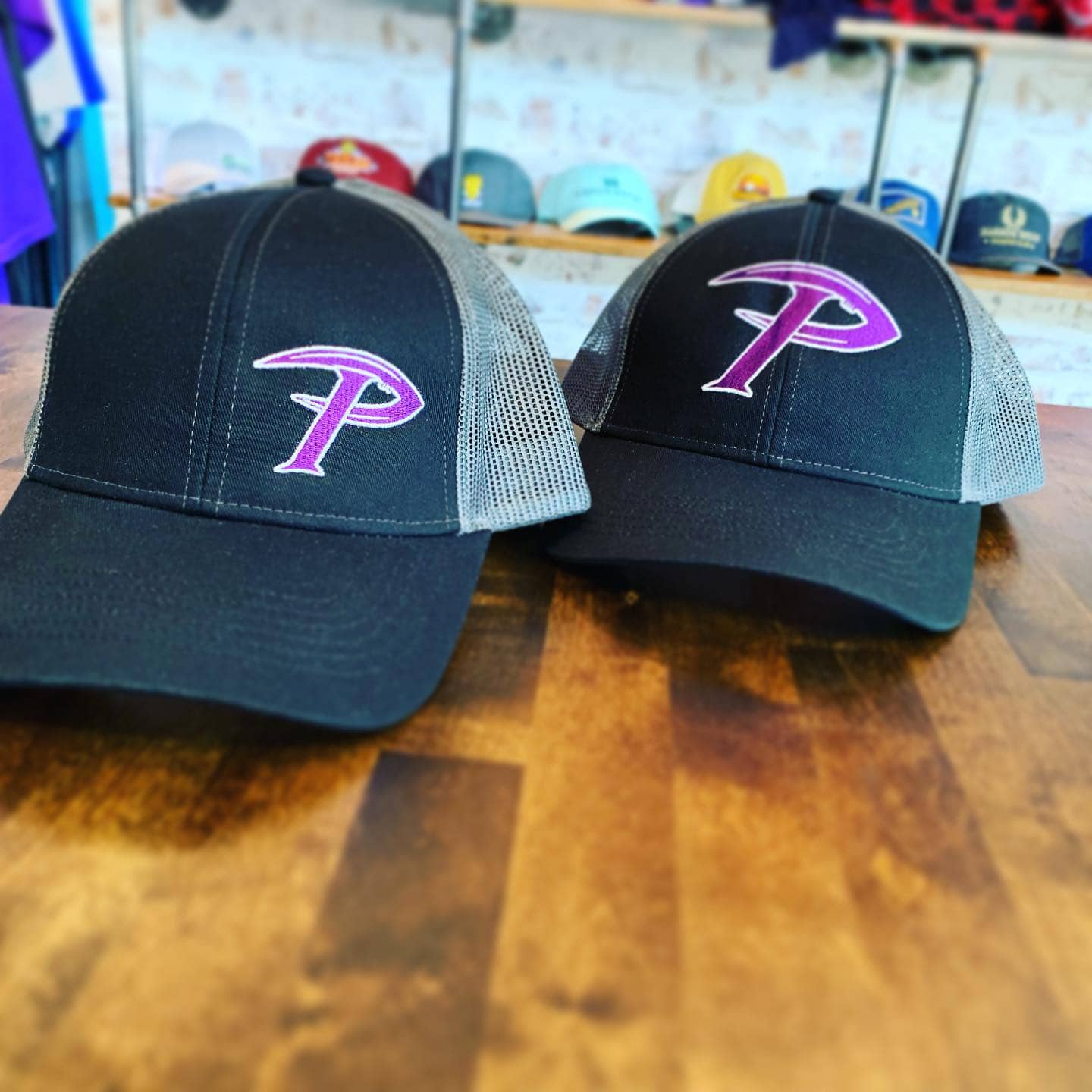 Perfect Placement
Kick Print offers embroidery on the left and right panels, or in the center of caps, and on the upper right section of polo shirts. Our team can help you decide where your logo looks best, or even do multiple styles so you don't have to choose!
Left, right, or in the Center
To make a statement and show off your team or logo, embroidery on the center of a cap (shown on the left) is a great choice! For a more subtle approach, Kick Print can make the logo smaller and place it stylishly on the right panel (shown on the right).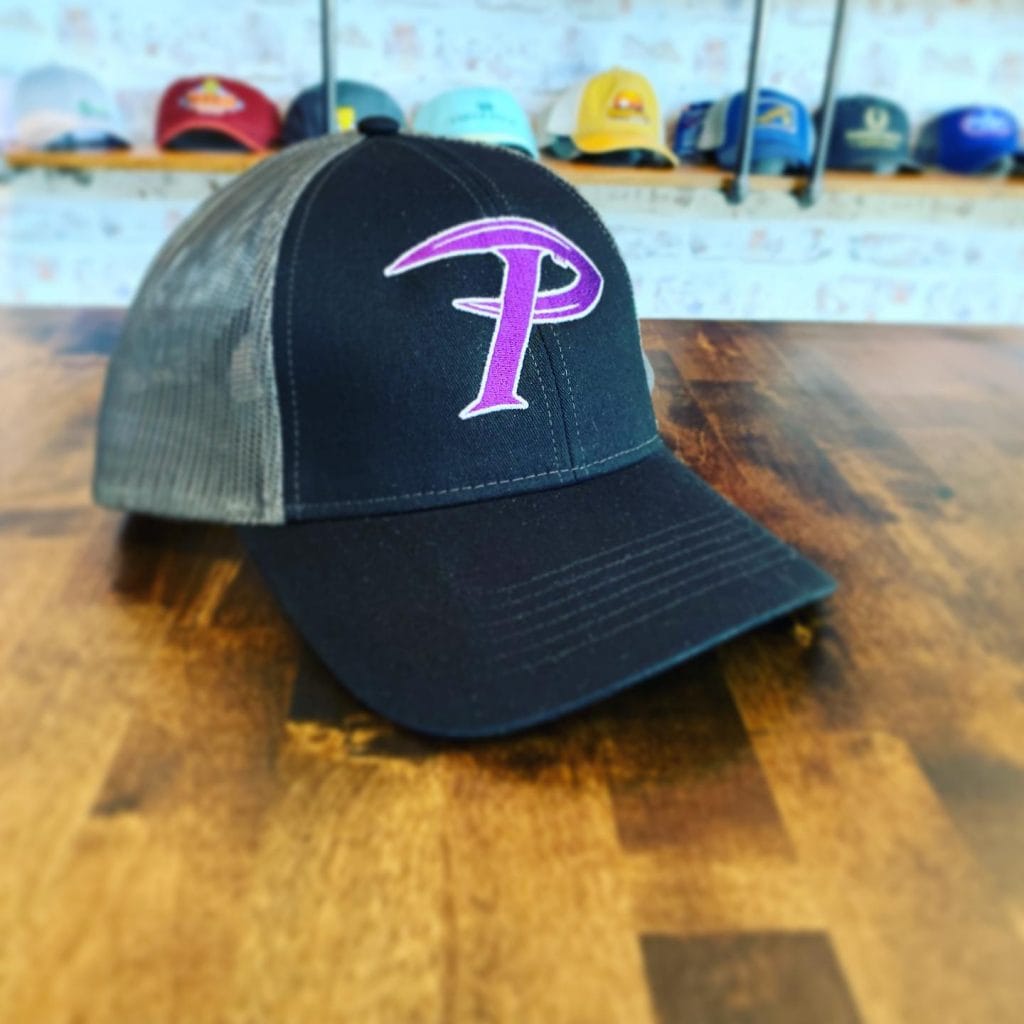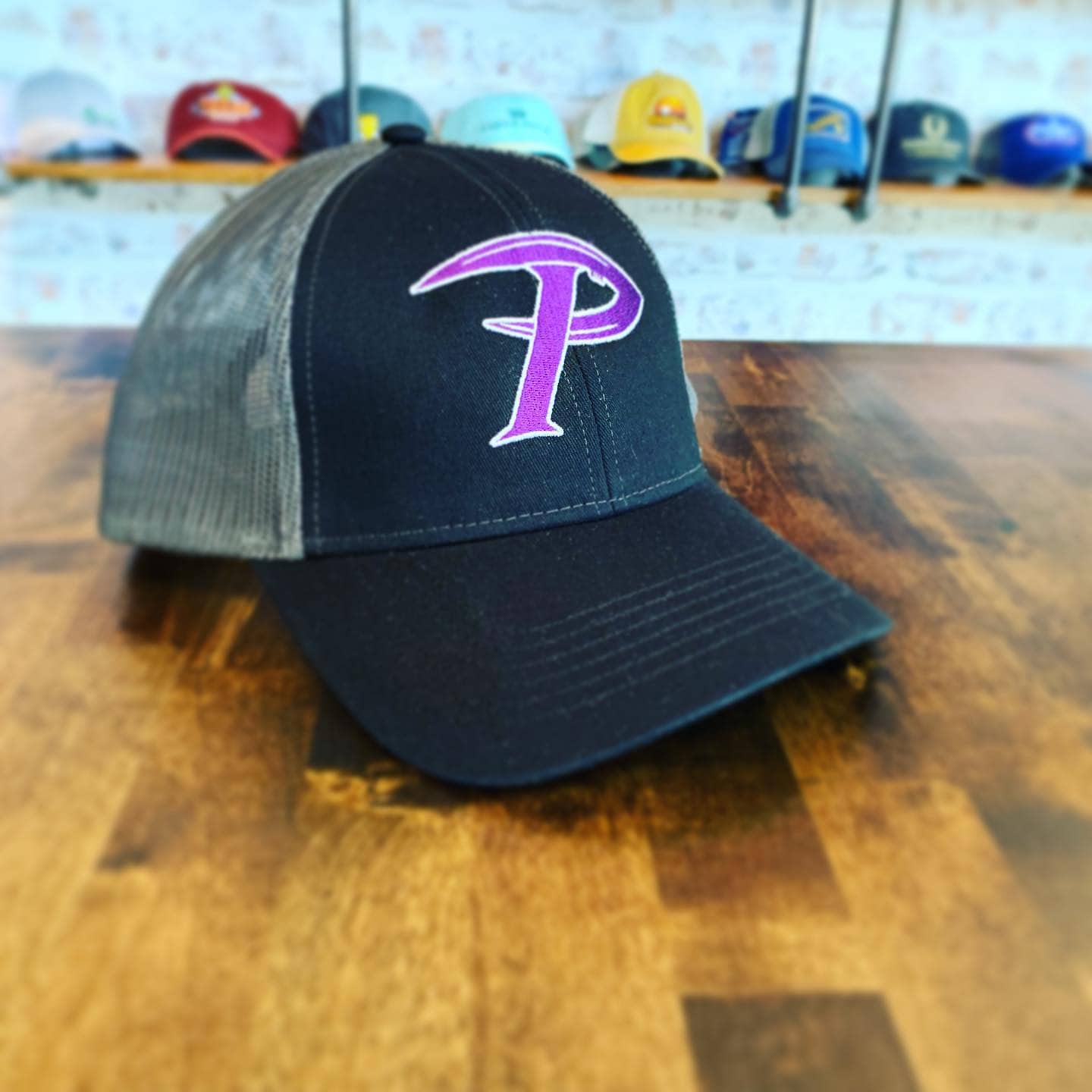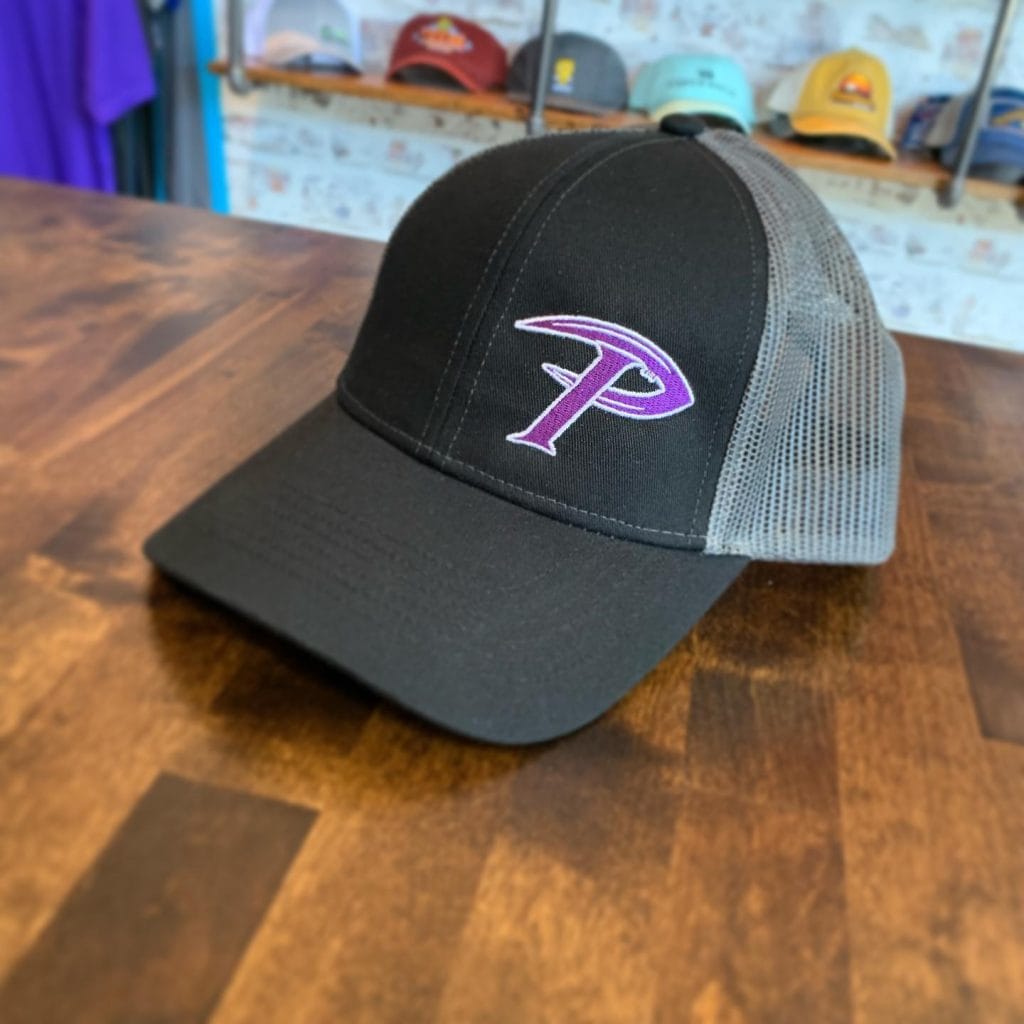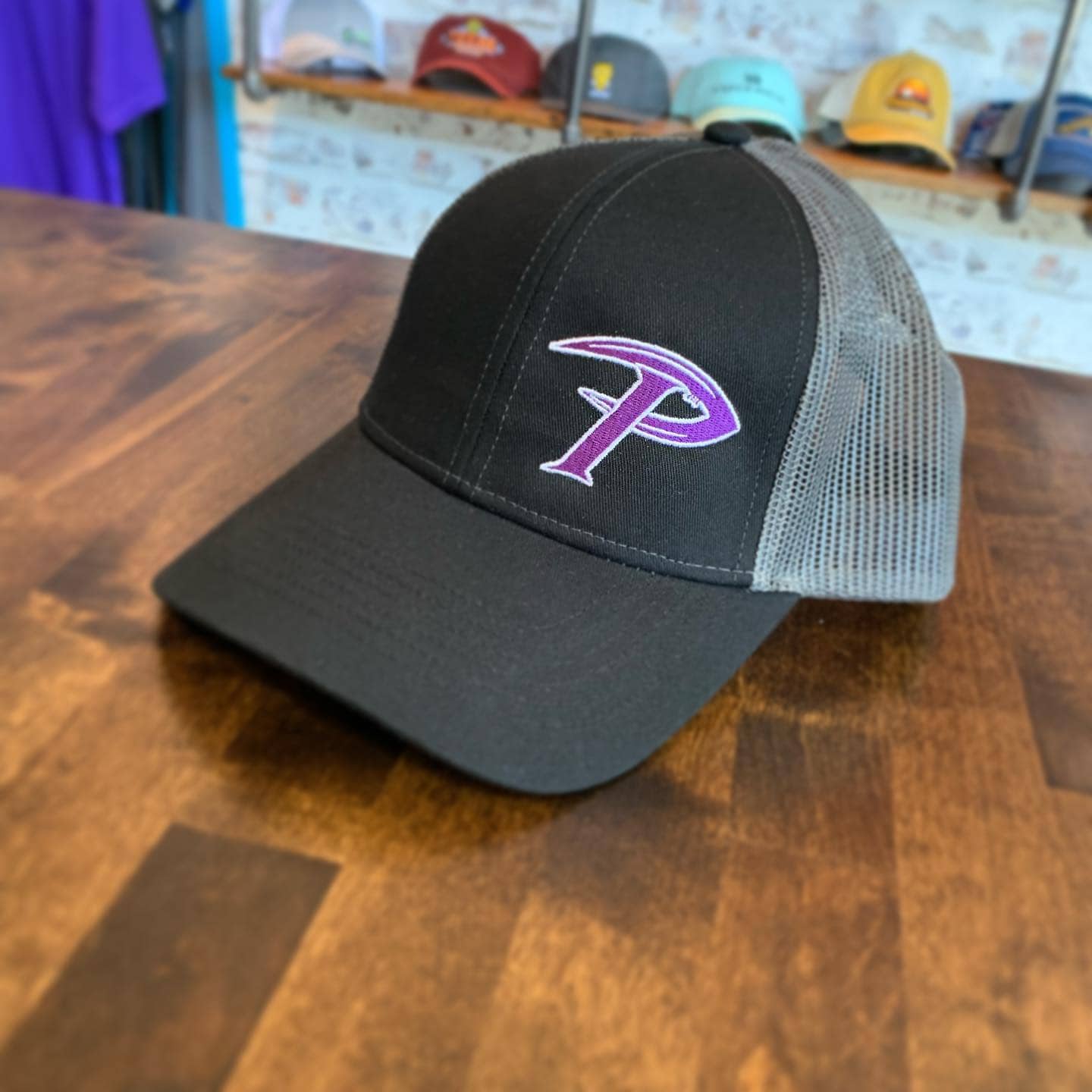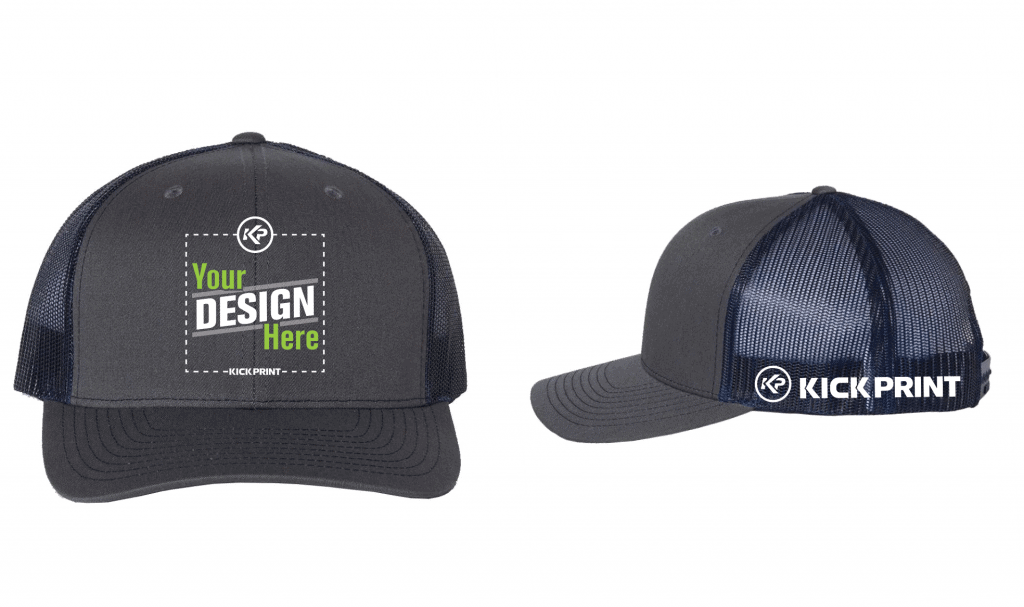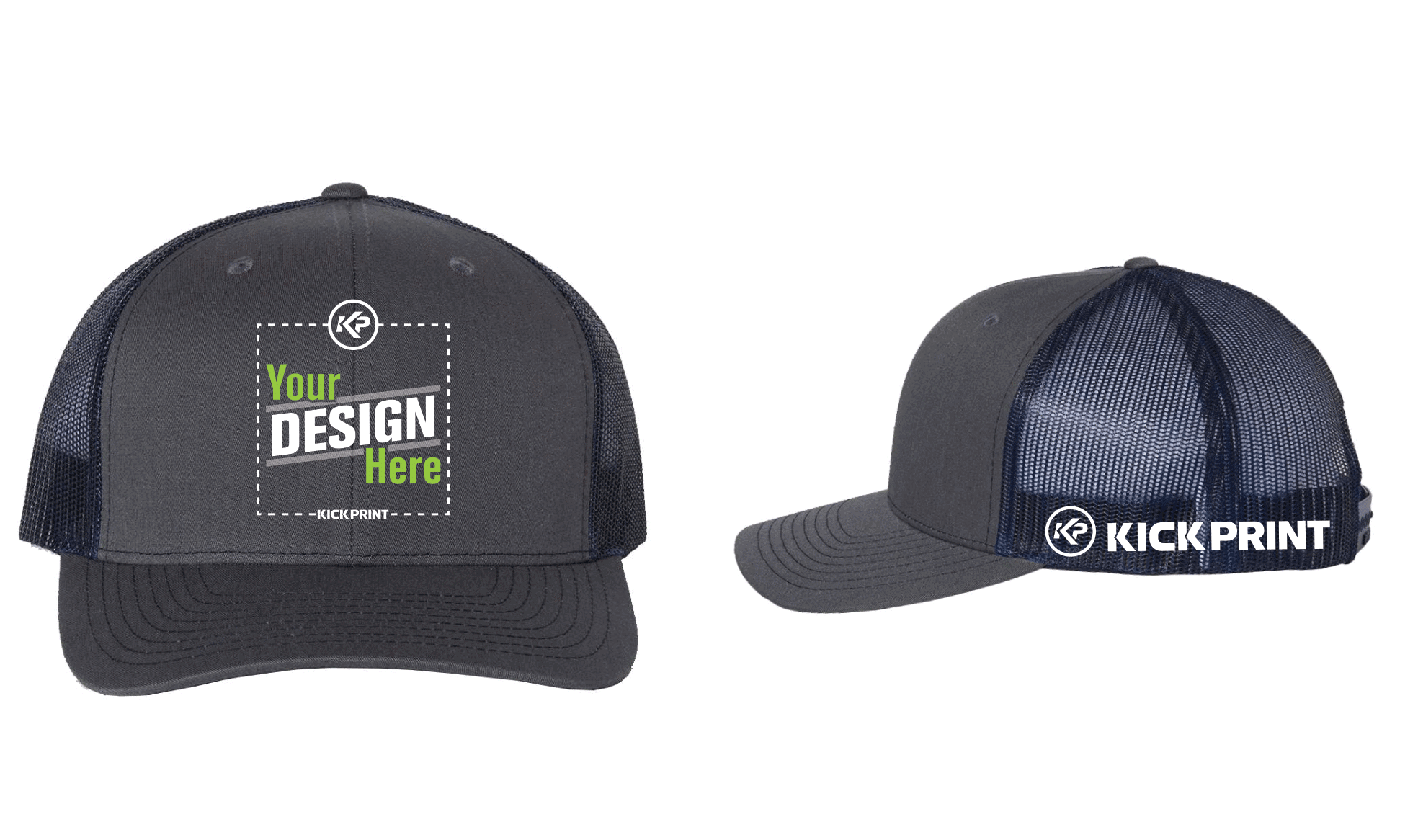 With Embroidery on the Side
Take advantage of the extra advertising real-estate on the side of your headwear! Kick Print offers embroidery on the side of headwear, perfect for spelling out the name of your company or organization.
Offering Puff Embroidery
Looking to stand out? Kick Print offers this embroidery style on caps, beanies, jackets and polos. Puff embroidery does work best on caps, which is why we suggest doing puff on headwear most of the time.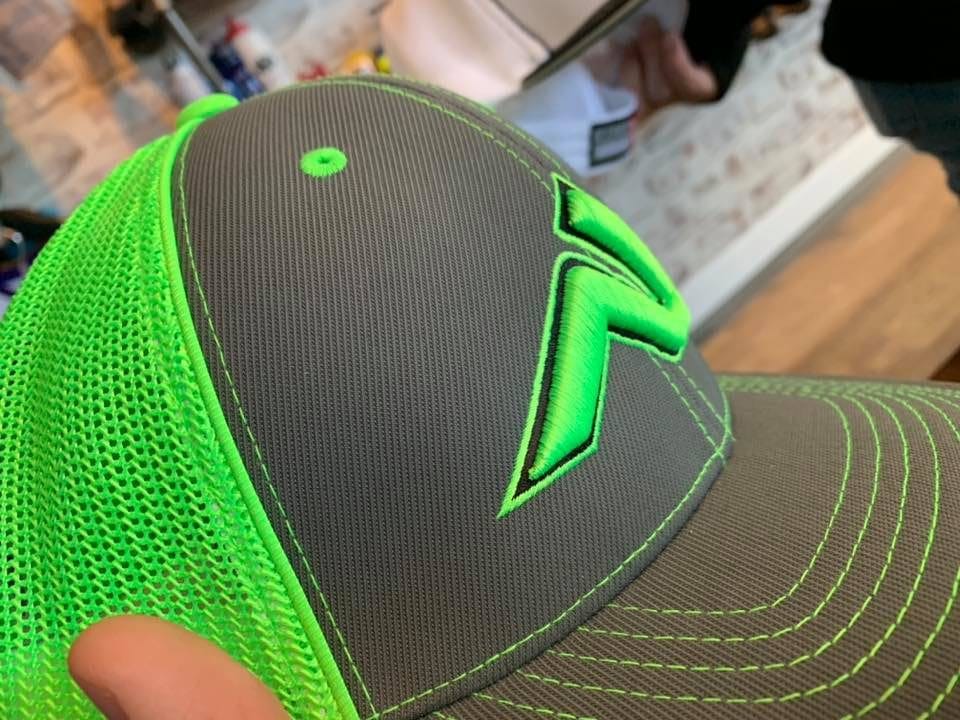 Shop our store or get a quote today!
Check out our apparel handpicked for embroidery, or talk to someone about your needs.
Frequently Asked Questions
Embroidery: What Works and What Doesn't
Still not sure if embroidery is for you? Learn more about the process below!
Learn More
Get a Quote