It's easy to think that embroidery is as simple as your grandma stitching on a button; after all, if the boy scouts can learn to stitch, how hard can it be? The truth is, embroidery has been perfected over years and years (and more years) of industry to create the stunning stitch work we see today.

This touch of class added to professional apparel and headwear takes careful planning. If you're interested in this timeless look to elevate your own brand, there are a few things to keep in mind including when to use embroidery, what to expect, and how to avoid issues.
CONTENT
---
To Embroider or not to Embroider?
A common question about embroidery is how much of a difference it makes compared to screen printing, and when it should be used instead. Knowing the difference can help you find if embroidery is right for your artwork.
Screen printing
This technique is used to capture details in a crisp layer of ink. Gradients, textures, and imagery for example can all be replicated on a shirt through screen printing. Screen printing is always the go-to choice for T-shirts and apparel that is easily printed on. Although items with printed designs last a long time, they do have a maximum "wash count", which is the number of washes the item can go through before its ink design slightly fades. This method is also good for rush orders; if you need your items ASAP, this is a great way to go.
Embroidery
Embroidery is thread stitched thousands of times into the apparel. It offers a naturally soft and shiny texture that can make logos pop. Well-stitched logos add a professional, more expensive look to items which is great for businesses or organizations that want to stand out. Embroidery is also perfect for promotional items such as caps, beanies, jackets, and bags. One substantial advantage embroidery has over screen printing is that the design will always be vibrant because it does not use ink that gradually fades. This method does take some time, however, and cannot be rushed.
The Difference
The main difference between the two techniques is that screen printing is optimal for T-shirts and can offer great detail, while embroidery is usually the choice for simple designs on oddly shaped and textured apparel. Another difference is that embroidery takes longer to do, but also lasts longer as it will never fade from washing.
You should use embroidery if:
Your artwork is simple without too many colors, gradients, or texture.
If you have plenty of time to wait for the embroidery process to complete.
If you want a professional, shining design on hats, polos, button-ups, and jackets that won't ever fade in color.
---
What to Expect with the Embroidery Process
Kick Print makes the process of picking out embroidery fun and simple. You can expect to choose the thread and apparel that suits your needs, pick where to place your artwork, and have your own fabulous fashion line of branded swag items!
Here's a list of what you can expect when using embroidery.
Choosing Artwork
As mentioned before, embroidery works best for artwork without texture, images, or gradients, as those details cannot be sewn. Choose artwork that is simplified into one to three colors. This does not mean that the artwork has to be boring, but the cleaner the design the better.
Digitizing the artwork:
In order to create embroidery out of your artwork, it has to be re-created as a "digitized" file. This is a file that tells the embroidery machine how to sew your logo. If you have access to a digitized version of your artwork, this is what you will want to send for embroidery. If you do not, Kick Print has a wonderful art team that can digitize it for you for a one-time set up fee of $50. You can also avoid the fee if you or your business has had Kick Print digitize your artwork for other jobs; if we've got your artwork digitized, we'll use it!
Choosing Thread Color and Design
The next step is to choose your thread. There are lots of colors that Kick Print offers that you can check out here. No matter your artwork, we can help you hand-pick what colors both suit your artwork and the apparel you choose.
Sometimes artwork will have outlines and negative space, as with the logo below, indicated by red arrows.
In a case like this, the negative space can be dealt with in two ways. Since the apparel color cannot show through the embroidered logo, the negative space is replaced by a thread that matches the color of the apparel. This is called thread matching.
If adding a second thread color is not your thing (or just not your price-range) the other option is to fill in the edges and negative space using the same thread used on the rest of the logo. See an example below.
If you would like to have the same logo done in multiple color schemes (like in the example shown below), it is $20 for each color scheme change. There must be a minimum of six items for each color scheme. This fee goes to the time it takes to set up the new thread in each machine, which can take hours depending on how many colors each scheme uses.

For the example below, there would have to be at least six hats with the gold and brown thread, six hats with silver and black thread, and one $20 fee for changing the thread colors in the machine.
Another design option that will really make your design pop out (literally) is called puff embroidery. Puff style embroidery elevates the design off of the fabric through repeated layers of stitching (see below).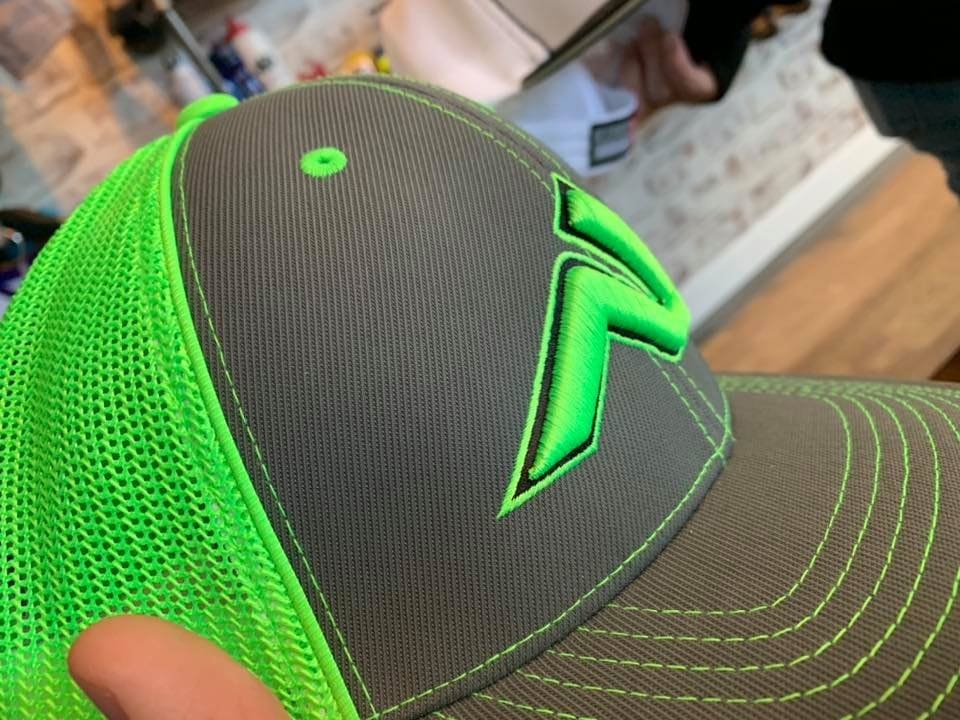 There are a few things to keep in mind when using this type of embroidery. This technique works best when the artwork is kept simple, such as using a single logo mark. Kick Print offers this embroidery style on caps, beanies, jackets and polos. However, puff embroidery does work best on caps, which is why we suggest doing puff on headwear most of the time.
Choosing Apparel and Placement
Once you have your artwork and thread choices picked out, it's time to pick your apparel! Kick Print offers a variety of polos, outerwear, and headwear handpicked for embroidery. After your favorite apparel items are selected, we can help you place your artwork perfectly. See details of how and where we place embroidery here or check out the examples below.
Additional Costs for Additional Work
Every embroidery job is unique, so it is expected that some jobs take more work than others. There are fees you can expect, but some you can avoid.
Digitizing Fee: The most common additional cost that all embroidery customers can expect is the one time digitizing fee for $50. This truly is a one-time fee, because if you reorder with no changes or if you have used the same artwork with Kick Print before, we will not have to digitize your artwork, saving you the fee. ​Also, if you happen to already have your digitized files, we are happy to wave the $50 fee.
Thread Change Fee: In order to accommodate embroidery jobs with more than 7 thread colors in the design, each embroidery machine has to be taken apart and rethreaded, which can take hours. To make up for this lost time, there is a $20 fee applied each time the machines are taken apart to be rethreaded. This fee is avoidable by limiting the thread colors to 7 or less. There is more information about this process below.
Special Requests: Some jobs require special work that takes extra time and effort. This can be things like adding custom names embroidered on the upper right chest area of a shirt, or embroidering on the sides of hats. These fees are on a case-by-case basis and can be discussed with a sales representative before you are charged.
Sampling the Goods: If you are interested in embroidery but not totally sure, you can request a sample item embroidered with your artwork for a small fee. The fee for a sample depends on the item and artwork.
---
How to Avoid Issues with Embroidery
Not all embroidery is the same, and each item has its limitations. Each item type (beanies, hats, polos, etc.) have a unique thickness and shape that must be embroidered certain ways at certain sizes. There is also a limitation on how many colors or thread changes an order can have. Here are the Do's and Don'ts to ensure a smooth process.
DON'T: Assume that you can mix and match items.
Many people think that the items for embroidery can be mixed into one order. This is not the case. Each item is unique, and has to be set up in a particular way on the embroidery machine. For example, a cap has to be put through a tubular set up, while beanies are set flat and embroidered. See below.
DO: Be prepared to order the minimum quantity for each item type.
Each set up costs a unique price, which is why we set minimum order quantities. So, if someone wanted to order beanies and caps, they would have to purchase both the minimum quantity for caps and the minimum quantity for beanies. For questions on minimum orders and prices, get a free quote here.
DON'T: Choose too many thread colors.
If you have artwork that has more than seven colors, you may want to choose seven or less or avoid embroidery. Each embroidery machine (shown below) can hold up to 15 spools of thread with 7 that are easily exchangeable in the back; for orders with more than seven colors, each machine must be re-threaded with those different colors. Because these spools aren't as easily accessible, this can take hours which results in extra charges.
DO: Limit the number of thread colors.
Less is more when it comes to embroidery. Simple, clean design works the best and can save you from extra charges. One to three thread colors is ideal for each design.
DON'T: Expect small details and texture to show with embroidery.
The smaller and more complicated the design, the worse it will do on apparel. Small details like the space between tiny shapes or letters will not digitize well. Do not try to put texture, gradients, or tiny text in your design. See the example below on the right that uses too many colors and texture.
DO: Keep a simple design that looks great at any size.
Simple shapes and lettering can keep your design looking professional and legible. The example below shows that even with limited color and detail, you can still make an awesome looking design. If you need help making sure your artwork will digitize and embroider well, our team is here to help!
DON'T: Forget to keep size and placement in mind.
If you were thinking about doing a huge 12 inch by 10 inch logo in the center of your polo shirt, you may want to print instead. Embroidery on a shirt or jacket looks its best when it is placed reasonably on the upper left chest. Placement on a hat looks good on either panel or across both in the center.
DO: Let Kick Print help find the best size and placement for you.
Kick Print will find the best size and placement for your logo. Our team will create an accurately sized mock-up of your logo on apparel to let you know exactly what you're getting.
Also keep in mind that the maximum size of your embroidered artwork will change from garment to garment. For example, the maximum size for a logo on a polo is 3 inches tall and 3.5 inches wide, while a hat's is only 2.4 inches tall, .75 inches from the bill. This difference in size is important to remember- make sure your artwork will look good at each maximum size.
DON'T: Wait until the last minute to order embroidery.
The process of embroidering apparel is a lot more extensive than just a needle pulling thread. Before the stitching even starts, time must be allowed for digitizing artwork, making proofs, purchasing items, embroidering, and shipping. If you do not have the time to wait for the process to complete, you may want to choose another method for your apparel; there is no way to rush order embroidery.
DO: Leave yourself plenty of time to have your job done correctly.
When time is taken to do the job correctly, embroidery can be beautifully added to the apparel of your choice.
How long does the actual embroidery take? Let's do the math: It takes 1 minute for a single machine to do 1000 stitches, and an average logo may have 10,000 to 12,000 stitches. For an average order of 15 hats at 12,000 stitches per hat, it would take 180 minutes, or 3 hours to complete that job on a single machine. Luckily, we have access to not one, but 15 machines, cutting the time for this job down to just 12 minutes if all machines are active at once! However, this does not include the time it takes for thread changes, fixing broken thread, or replacing bent needles.
Math is hard, we know. The main takeaway is, set aside plenty of time for the process; even if you believe your embroidery job is simple, leave your project time for digitizing, picking apparel that works, embroidery, and shipping.
---
Embroidery FAQ
Here are some of the most frequently asked questions we get about embroidery. If you have a question you don't see answered here, our team is always ready to help! Contact us here.
Q: What should I keep in mind when doing embroidery?
A: Be aware of what products we offer for embroidery. Not all items are created equal. Some items are not suited for embroidery, such as T-shirts. If you have questions, our team can guide you on how to find what works best for you.
A: Embroidery price varies from product to product. Because there are separate embroidery processes for each unique product, the price will vary. The cost to embroider a polo will not be the same as the cost to embroider headwear, even if they use the same artwork.
A: Details like texture and gradient do not show with embroidery. If your artwork or logo has fine detail, embroidery will lose it. Try to simplify your design if you wish to use embroidery.
A: Keep in mind is the choice of color for both the thread and the apparel. You want to make sure that your logo or artwork will read well no matter what it is embroidered on. To do this, pick a thread color that compliments the apparel color, but has enough contrast to stand out.
Q: Can I mix different items like hats and polos for the same order?
A: No, they have to be ordered as separate jobs. Because there is a difference in the way these items are set up for embroidery, they do not cost the same amount. Since they have different prices, you cannot mix them; for example, you will have to order both the minimum number of polos and the minimum number of hats if you want both.
Q: Are there any fees?
A: Yes. There is a one time set up fee, but there are some exceptions. There is a one time fee of $50 to digitize your artwork for embroidery. This truly is a one-time fee, because if you reorder with no changes or if you have used the same artwork with Kick Print before, we will not have to digitize your artwork, saving you the fee. ​Also, if you have your digitized files, we are happy to wave the $50 fee.
A: If your order has a color scheme change or more than seven colors, there is a $20 fee for each time the machines must be taken apart and rethreaded. You can avoid this by using 7 thread colors or less.
A: If you would like a sample, there is a small fee. If you would like a sample of how your embroidery would look before you order more, we charge a small fee to have that done for you.
A: There may be some additional fees for special situations. Other charges can occur for special embroidery jobs, including adding custom names on the right chest of shirts or embroidering on the sides of hats. This completely depends on the job and can be sorted out with your representative.
Q: Can I do a rush order for embroidery?
A: Unfortunately, there really is no way to rush the embroidery process. Before thread can even touch the apparel, it takes time to pick thread and apparel, get the artwork ready for digitizing, get the artwork digitized, proof mock-ups, and order the items. Leave yourself plenty of time to do the process correctly, and you'll be very pleased with the results.
---
So, Is Embroidery For You?
What if you're interested, but still not sure? No worries! As usual, Kick Print can help. For just a small fee, we can digitize your artwork and send you your very own sample before you place an order! The best part is, if you want to go ahead with the order or save it for another time, you will not be charged again for the digitizing fee, since we'll already have it done!
Embroidery adds effortless professionalism to any apparel. Now that you know what to expect, how to avoid issues, and when to use embroidery, you may want to add that touch of class to your own brand. If so, get your free quote here or give us a shout and we'll work with you to make it happen.
-JT